I am finally in sunny LA!!! I still would like to know where I should go vintage shopping so if anyone out there reading this knows?!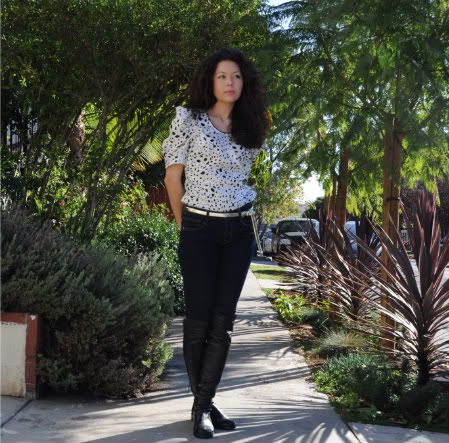 Today I...
-posed by a blue wall because my sister asked me to
-drove for what seems like all day (just to the airport and back and I was in the passenger seat)
-ate peanut butter captain crunch for breakfast
-
almost
got stung by a bee
-went online window shopping- for a lack of a better word
-watch a soap opera (my sister had to for work so it's on in the background as I type)
-laughede a lot
-snacked on apples with cabernet soaked cheddar cheese
-watched Full House to fall asleep. We were at the concert until after one am!
Today I
didn't
...
-manage to capture, again, the cute little gold button detail on the sleeves of my shirt
-have a season Starbucks latte which I told myself I would everyday while in the US
-study my German
-anything productive
-buy anything today - yet
-work out
Editors note
I did not take my belt off in the last photo like Kelsey over at
Snappy Fashion
pointed out to me. Why you can't see it I am not sure why. Kinda creepy...