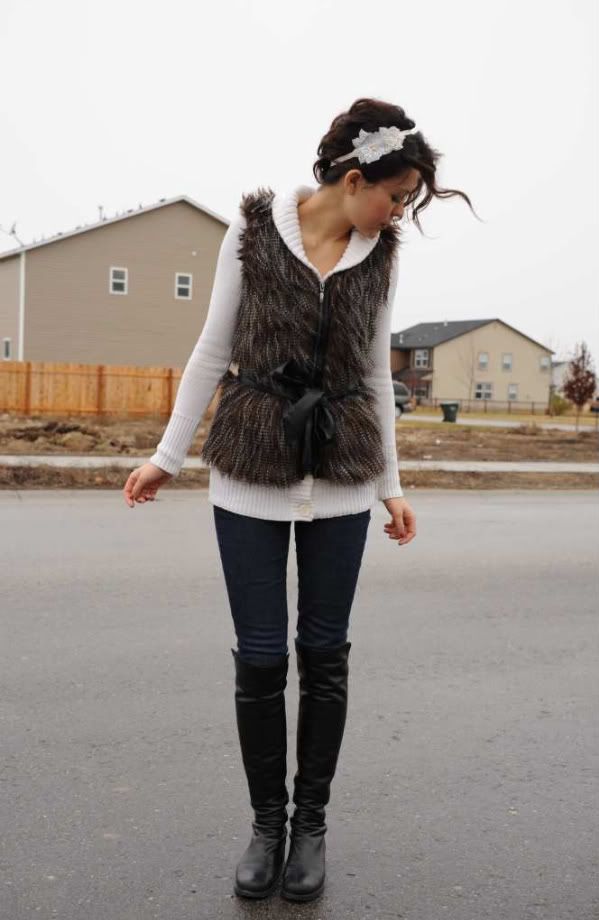 faux fur vest: The Buckle. cardigan: Club Monaco. jeans: H&M. boots: Stuart Weizman. Headband: Urban Outfitters.
Bowling was not the fix it to my sickness after all. Silly me, I thought for sure exertion and fun was the answer. So, I am back lying around in my pj's.
Lame I know.
I do have a spa day tomorrow that I can't wait for.
RELAXATION
here I come. Maybe that is the trick?! Either way, I did this no looking at the lens thing today and I must say, I don't hate it. The first blue picture sort of reminds me of a paparazzi photo too. Love those! I did not get any good photos of me bowling so, I threw one in from when we were playing pool. Girls against boys and, the girls took it.
Before we went bowling we went to dinner at Johnny Carino's, or shall I say, just Carino's? I am absolutely a sucker for their Italian Nachos, minus the meat of course:-) Have you tried them? If not you better. It's not a request it's a demand. They are that good.
Sorry this post is short I am just feeling like it's bed time and has been for a long time. So the sick girl is signing off. Sweet dreams.