I did it.
I was brave.
bold.
daring.
valiant
and all with snow boots.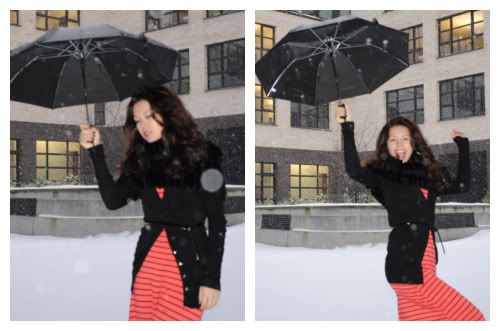 dress: market in Cornwell, UK. cardigan: Zara. boots: Ludwig Weiter. scarf: Giorgio Armani. belt: Club Monaco.
I wire the dressanne boy did I got some weird looks today. I just smiled and charged through the day. Not sure I will wear this dress again anytime soon (outside of the house that is.)
I think I have the smallest bladder of anyone I know. You can ask my girlfriends. They all make fun of me because I am constantly saying "I have to pee!" (Sorry if you found that vulgar. It's a bodily function and I know you do it too. wink. wink.) So today after school I thought I could make it home since it's usually only a twenty minute ordeal. Somebody forgot to tell my bladder that there was a demonstration in the street where I catch the bus. Me and ill informed bladder had to wait while getting wet from the snow for more than 45 minutes until the bus came to whisk us home. As soon as I got done taking photos (in a new location at that!) I ran inside and just missed the down fall. It is a blizzard out there and I am so happy I am home staring at my beautifully light christmas tree.
Not only did my bladder almost explode but my straightener broke today. My frizzy locks are still sobbing, just look at them. I can't wait for tomorrow because it's FRIDAY!!!