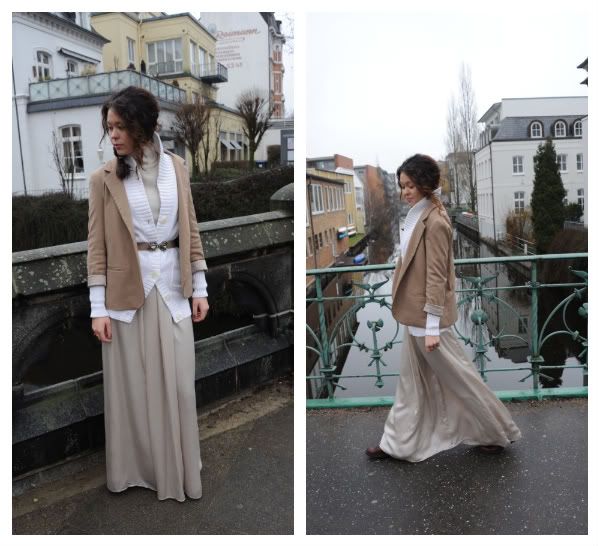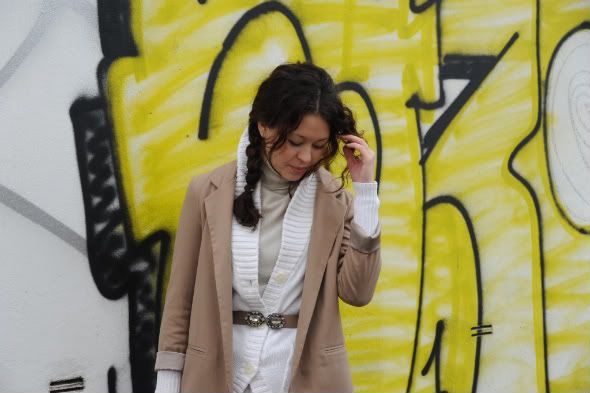 dress: Hallhuber. turtleneck: Ann Taylor. cardigan: Club Monaco. belt: BCBG. blazer: Silence + Noise. boots: Russell & Bromley.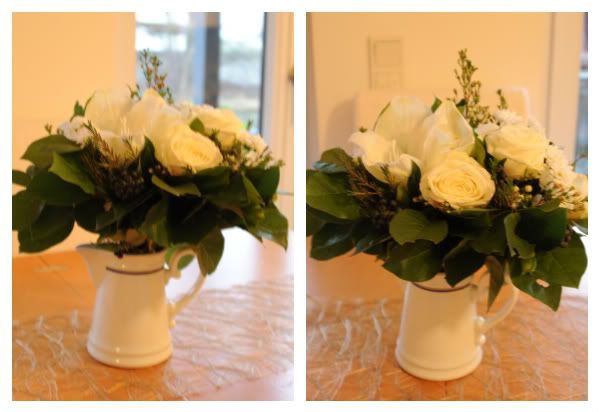 Flowers I am enjoying from the bf. All white and in a little water pitcher, they are beautiful.
I had a great time yesterday playing around with tones, lengths, and textures. It was also great spending time with the bf and finding a great wall of graffiti for photos. We enjoyed brunch and strolling in our bustling neighborhood. I even managed to get the bf to go into a beauty store where I picked up some nail polish and lip-gloss. I will see if I can squeeze in a mini manicure and show you some time this week.
Today my lovelies, it's going to crazy in here. I will be a worker bee. Can someone put a pot of coffee on for me? Oh wait I forgot, we don't have a coffee maker. Crap now what is a girl to do?
Here is the list:
1. German homework and general studying, reading, hearing, and all that stuff. Duration approximately three to four hours.
2. Cleaning up and out my closet. Yep that's right. I am getting ride of stuff. I usually do this in the spring (thanks
mom
) but I am feeling overwhelmed like I have nothing to wear and I know that I have clothes in there somewhere. Well, unless of course I am washing someone else's laundry. Mmmm....
3. Trying to get my 30 for 30 items picked out and washed. I am kind of stressing about it this time around. I feel like I will be repeating a lot of the same stuff but I also don't want to and can't afford to buy new stuff. How is it going for you?
4. Read my book. It's a great book actually and I want to keep reading it. It was recommended by a friend of my sister.
Ishmael
, by Daniel Quinn, has anyone read it?
5. Spend more time with man.
6. And last but not least, a little relaxation. i.e. reading magazines and blogs that make want to go shopping.
7. Oh, and the gym. I have to go to the gym today I can't forget. This body needs a work out. Fun! Haha.
Okay that means it's time to skedaddle.
p.s. I was tagged by the darling
Alessandra from Mode Moods
to do the 7 things school thing. I am working on that too today. I didn't forget it's just that all my old photos are back in the US. I will try to scrounge something up, cross my heart.
Cheers Dears,
Bre