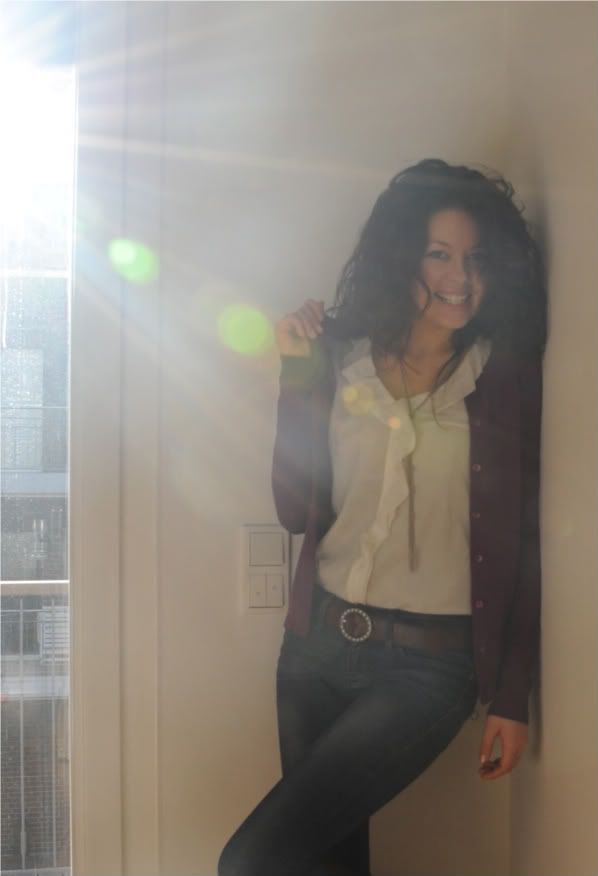 blouse: Gap. Cardigan: Ann Taylor. Necklace: Vintage. belt: American Eagle. Jeans: G-Star Raw. boots: Russell & Bromley.
I could not be a happier camper today. Do you want to know what happened?
Of course you want to know what happened. You do right? The sun showed itself today and my body and soul are restored. I feel happier, stronger, more awake, and have so much more energy it's out of this world amazing! I think even just 10 to 15 minutes of sun a day would make me a new woman. I have nothing but thanks (and sun block) for the great and wonderful sun.
My little "work" trip has officially started. I am sitting Munich as we speak, er as I write this and as you… what are doing right now? We drive tomorrow to Austria and stay in some little village. I don't even know the name of it yet, sorry
Macs
. My assignment is to go into hotels, bars, restaurants, and clubs and take photos. So why do I keep saying "work" and not work you ask? Well, I am not one doing it. I am just tagging along for the ride. Not so hard right? The hard part was packing. I had to fit four days worth of warm clothes in a carry on bag. Normally I would just grab a few things and mix and match them around. Problem is, you are allowed to smoke inside in Austria. I can't be going to nice places smelling like smoke. It's a very unpleasant smell you know.
Cheers,
Bre