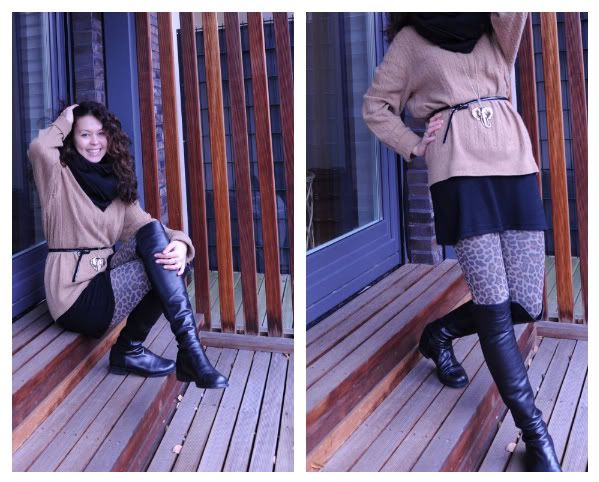 cowl: American Apparel. sweater: bf's. dress: American Rag. belt: Club Monaco. tights: H&M. boots: Stuart Weizman. necklace & metal cuff: gifts.
Have you ever been in a foreign country and been yelled at in a language you are not fluent in by a stranger? As of this afternoon I can add that to my list of crazy things that have happened. I asked an old man, who happen to sit next to me on the bus even though the bus was practically empty, if I could get out because my stop was coming up. He turned to me and said I had to wait because we were not at the bus stop and couldn't I see that. I said yes I know (in German) and he continued to yell at me and I at first gave him a dirty look but them smiled because what else was I to do? I am just glad that I am not an angry person and have the urge to yell at people I don't even know for something so small. But, if I truly offended you old man for wanting to get off the bus I am sorry.
I get to go on a "field trip" again tomorrow. We are going to a supermarket and an organic market. See learning German can be fun. I have to tell you though; the teacher we are going with singled me out today and said "No high heels tomorrow." The entire class laughed at me because I am only one who wears heels.
I have to go get ready for date tonight. I am taking the bf out this time around.
Cheers Dears,
Bre