Okay, truth is, he 's not little. At all. I wanted some one to kill it but then I noticed that he eats the flies and little other bugs so do I really want him dead? No. I just don't want him on my balcony. I hear that they have no dangerous spiders here but, that thing is big enough to make me think that that little story is a fib.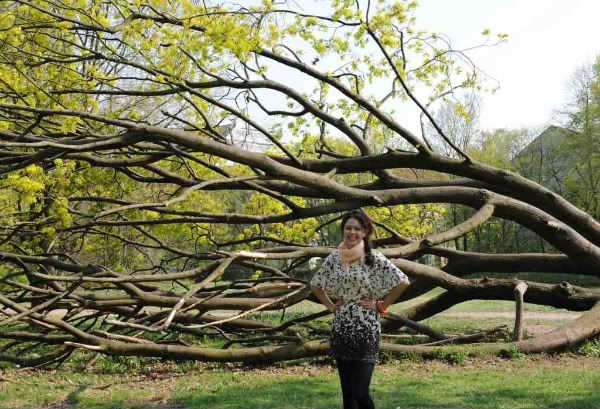 dress: nümph. tights: H&M. boots (which are my new go to shoes): KG by Kurt Keiger. scarf & bangles (purchased yesterday): Mango.
Today was another gorgeous day in Hamburg! Not warm enough yet to lose the tights but I feel it coming. In the dog park where I took pictures today is this amazing tree. The roots are barely in the ground but the tree still grows and blooms, just side ways. I find it rather cool it still grows. So did the two nice older ladies that talked to me. Both of them (with out knowing that I was taking pictures for a blog) said my pictures were pretty and that it was a great idea to take photos of one's self. They were so sweet. Well I am off to paint my nails and like every night, homework.
p.s. I just threw the pic of the bikes in because I want one so bad. I need to stop impulse shopping so one of those babies can be mine!
Cheers dears,
Bre