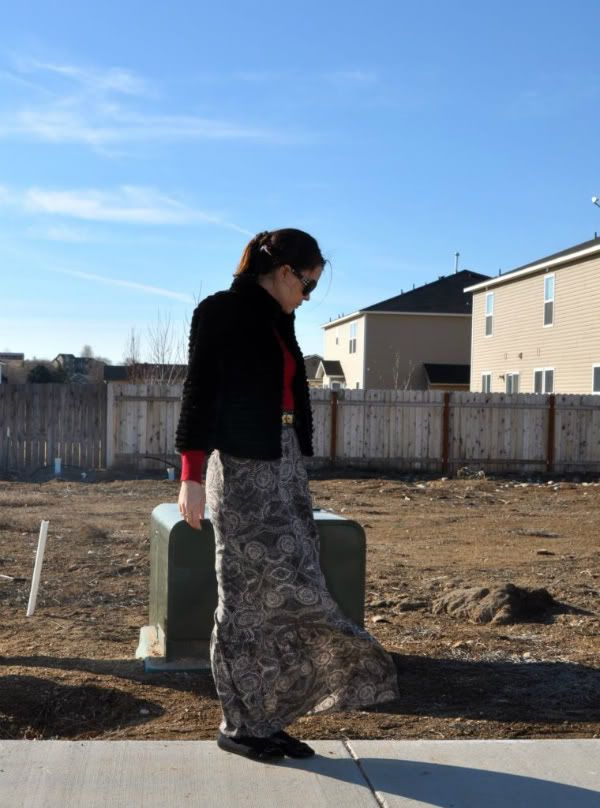 I had another top picked out to wear with this skirt today and then the very sweet and always stylish Megan over at
The Fugalista Diaries
reminded me what today was. I am wearing my red, are you?
I wore this coat most of the day so I thought I would keep it on for most of the photos as well. This skirt had so much static after I left the house and I couldn't get it to stop. Between that and the wind it sometimes looked like I was wearing bellbottoms. I also don't usually wear my like this. I actually felt weird all day. I didn't make it big, or put it up high, or rat it or anything. Still not sure how I feel about it.
Ley's talk about this skirt, I found it rummaging the sale/clearance room at Anthropology over the summer and I fell in love. I picked it up for $25 and couldn't have been happier. After taking photos though I have come to realize:
1) from the front it makes me look wide
2) I can't find shoes that look good with it.
I have tired flats, sandals and heels. I just can't get it to work. That means this baby may sit in my closet for a while until I can find it some shoe companions. That also means I have an excuse to go shoe shopping (insert devilish grin here).