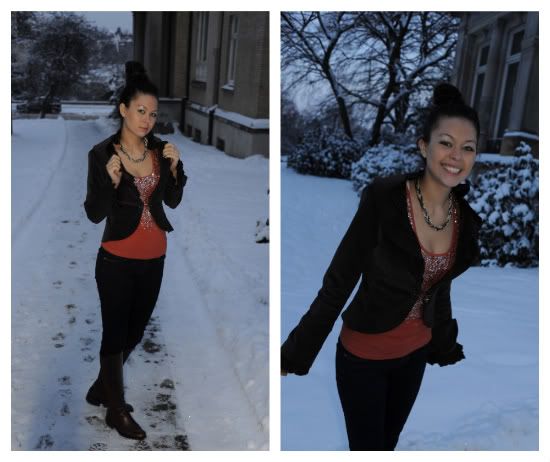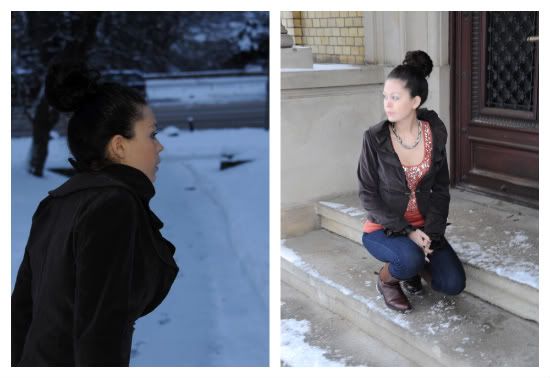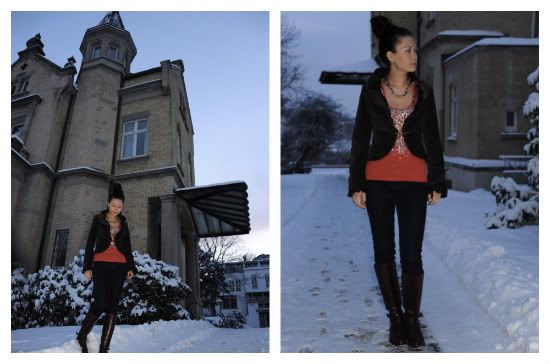 jacket:
Rinascimento
tank: Express. necklace: Urban Outfitters. jeans: G Star Raw. boots: Russell & Bromley.
My mom bought this velvet victorian style jacket and then never wore it. As soon as she mentioned that my hand was out so fast I felt like a cowboy in a draw. It's not something I would normally be attracted too but I am in love with it. Is it even possible to be love with a clothing article? My mom had said it was hard to find things to go with it and I thought how hard can it be?! It was not easy. Yesterday I paired it with this tank top (c.o my mother yet again. Yes we wear the same size clothing.) My boyfriend didn't like it. He said the tank top looked cheap for the jacket. I beg to differ, but mostly only because it's the holidays and I am looking for any excuse to wear sequins.
Are you wearing sequins a lot of sequins right now too? Please tell me I am not the only one here completely obsessed with it.
Oh boy, was it just me or did this last week seem super crazy and chaotic?! I have the funny feeling that this next week is going to be even more disorderly. That is what the holiday's bring though and I love Christmas time so bring it on. I may need a little caffeine to get the job done buy hey we all have our vises.
A little note about the sun here:
It's day time and then you blink your eyes and it's dusk. Blink again and it's black outside. You may notice that through my photos but I had the compelling feeling of sharing that tid bit. Cheers!