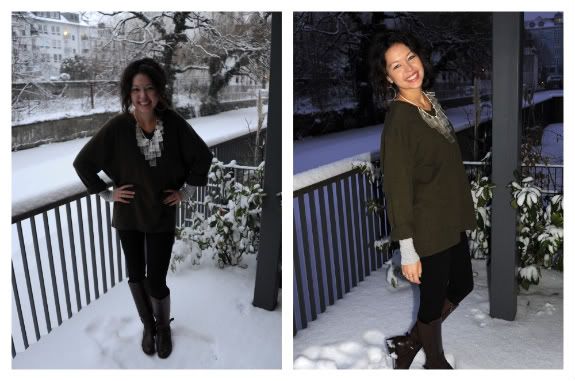 trying to show my earrings and necklace with out my face was impossible today so sorry for the large image of my face.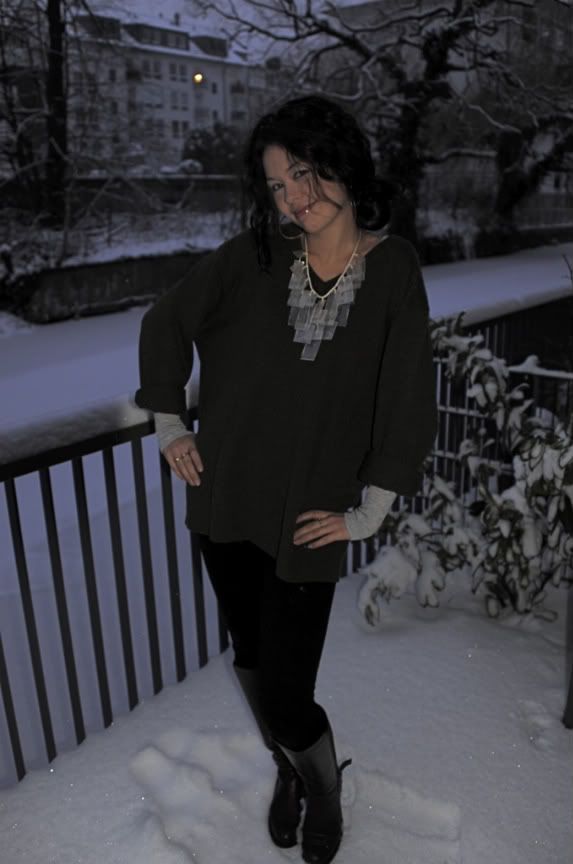 s
weater: boyfriends. jeggins and necklace: Club Monaco. boots: Russell & Bromley. hoops: Top Shop
I woke up on the very late side today. I was in a panic because I had a test. It was only vocabulary but we were told Friday not to be late so I was rushing all over getting ready today. So much actually that I only had put on only one swipe of mascara on one eye before taking photos this morning. I, like a bad girl, did not pick out my outfit last night and in a tizzy I thought "It's 24 degrees outside and I have a test in a room with about the same temp. I know just the thing." I walked (actually it was more like a mad dash, I'm just saying) to my boyfriends part of the closet and snatched up a hunter green lush cashmere sweater that I have been begging for excuses to wear. Get my title now? I have no plans on returning it anytime soon. Hee Hee. Thanks boyfriend it's cozy.
Since I was late, I didn't have much time to dig through accessories so I nabbed a pair of earrings. I am not sure if you noticed but, I barely ever wear earrings. I have to put clear fingernail polish on them in order to wear them and even that some times is not enough. I am ready to rip the ones I have on out of my ears right now but I am hosting a wine and
raclette
party at my place tonight. I will try to get pics up tonight or tomorrow of how that went! On that note I have to run to make finishing touches. Have a great evening guys!
Oh yeah, I rocked the side the bun today. That makes two things in one day I don't normally do. I hope this marks the beginning of something good.