Before I say anything I have to confess that I am copycat today. A few days ago
Jentine, over at My Edit
, wore a daringly brilliant and outfit. If you have not yet visited her blog, you should! She had a leopard print skirt and so do I. She paired it with a checkered button up, a sweater, and lace tights. Check, check and check. Well let's just say I am not as brave and or as chic as she is pulling all that off. I opted for solids but, maybe next time.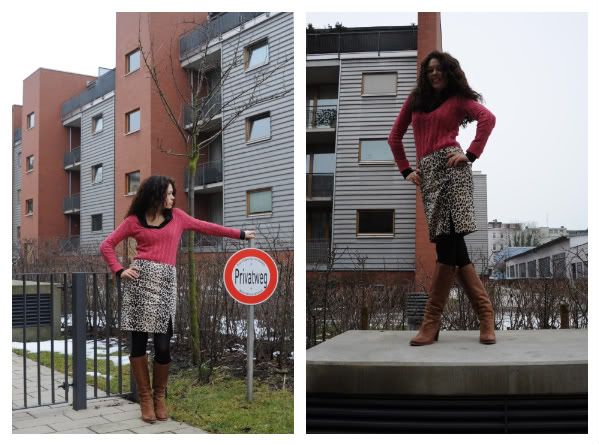 So far nothing has happened that was amazing or inspirational today. Weird, I know. It's also been gray outside since I have come back from vacation. Sad, I know. It is only a little after five but come on now something needs to happen already.
Oh wait…. I am going to a concert later. That ought to be interesting or something. I have never herd of the guy or band. It's Jan Delay. Anyone herd of him/them? Either way it's music, so what's not to like about it?!
Because there is a little bit of smartness in this head I looked him/them up on You Tube. It's a guy and I totally have heard his stuff here Germany! Sometimes I wonder about myself, seriously. Anyway check out his song that I like, and know,
here
!