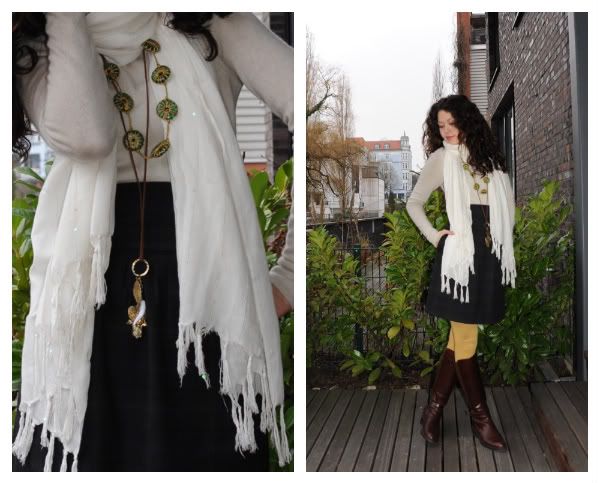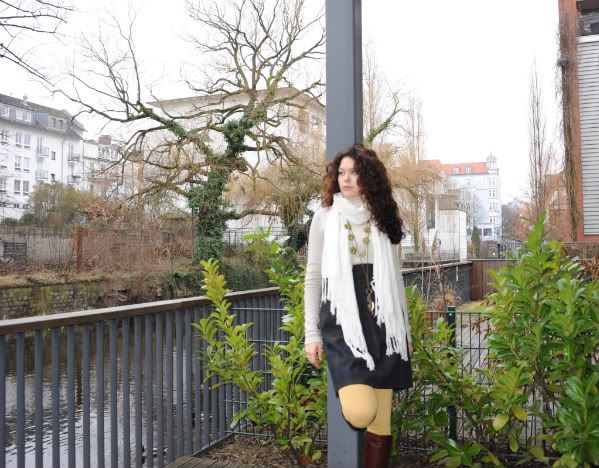 turtleneck: Ann Taylor. skirt: Mango. tights: American Apparel. boots: Russell & Bromley. scarf: H&M (I think). green Necklace: hand me down from sister. brown necklace: Forever21 (old).
My darling boyfriend took the liberty of telling me yesterday that I look like I need some sun. HA! Does he not realize that we live in Hamburg the rainy (but beautiful) and gray sky capital of the world (maybe not really but I am firm believer!)? To help get me some sun I pulled out a pair of yellow tights and though if I can't have the real sun I may as well give my legs something yellow. This as you can see did not perk up my color.
To top things off, my hair had a conversation with me today. No not the usual "I don't want to do what you want me to do" conversation. It was a little more like this:
Hair: Darling I love you and I know you love me but, any more humidity and rain on this mane and it will be frazzled out! I am talking Medusa style frizz that will be close to impossible to bring back to it's usual frizzed out self.
Me: Well hair I'm not really sure what to say right now other than I have an umbrella –insert nervous laugh here.
Hair: An umbrella?! Who do you think you are talking to? You better do better than that girl.
Me: Um… Perhaps you'd enjoy some deep conditioner?
Hair: That's better so I will cooperate today, but missy you'd better do something quick!
Does your hair ever argue with you like this? I am not quite ready to tell my hair that we until about May or June until this weather lets up. Not sure how that conversation will go down. All I can say for that is stay tuned.
Cheers to a great starting week my lovelies,
Bre