Remember
this
post where I gave you a look into my day? Well those results are finally in (they have been in since before the new year but things have been hetic sorry.)
We (my sister, boyfriend, dad and I) made over my dad's living room. The poor guy is rarely home and when he is it's usually to sleep. He had stuff all over which made this make over long past due. So we put the team to together and in the craziness of Christmas we got work.
Before:
After: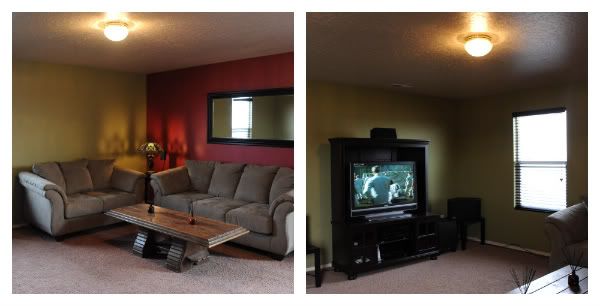 Purchases: Paint & Supplies around $175. Entertainment Center around $350.
While I was looking for clothes to wear putting away clean clothes in my dad's closet I stumbled upon this fantastic lamp. It just need a good dusting and look at it, amazing! If it was lighter and the correct voltage for Germany I would have shoved in my suitcase in heart beat. My dad was using a weird lamp that was so not attractive so I swapped it out for this beauty. The side table it's standing on my sister and I found in his bedroom with a plant it. We exchanged the side tables (you can see the old lamp and old side tablet in the bottom middle of the first photo) and it made a HUGE difference. Since we stole from his room to liven up his living room I guess it means we have to re-do his room next time we visit, ha ha.
If you have re-done a room I want to see and hear about it.