cardigan: Club Monaco. scarf: it's a sarong form Hawaii. tank: American Eagle. jeans: Abercrombie & Fitch. wedge sandal: H by Halston (on sale now at Bakers!)
I took a cue from Blake Livelys' character on Gossip Girl (I recently became a hooked viewer) Serena, by not doing my hair. Her hair is always disheveled and I saved myself thirty minutes by just letting it do its thing. I ratted a little here and there but that was all.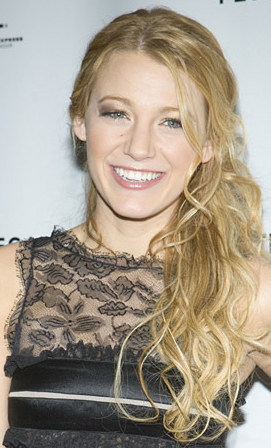 This look on a celebrity is called "a chic ponytail " on regular old me it's an undone ponytail that you might be seeing more of.
The weather today stared out fabulous at one point even hitting 73 degrees F. Then in true Hamburg style it went to crap. The ominous clouds rolled in, the wind picked up, and the rain stared. The title of this post means hurricane in German, which I know, we don't have here but when I was walking in the doom and gloom I sure did question that.
If you are questioning my scarf because it resembles a sarong, you are correct. I figure it can double as a scarf since I don't need a sarong around here.
Wishing you a sunny and warm day. Cheers,
Bre