Hey guys this is my first time doing FBFF. If you don't know that is go check out it out and join
here
over at
ModlyChic
.
I'm just going to jump right in, so here goes:
1. What items/trends are you liking right now?
I'm coveting so many styles tight now, it's insane! I'm really liking color block shoes, native prints, and flowy feminine dresses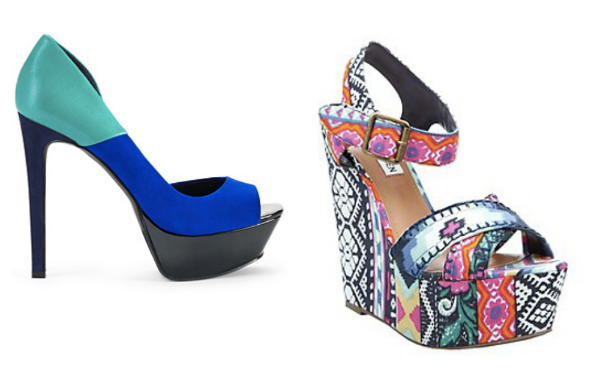 Jessica Simpson
Steve Madden
Elizabeth & James via
Shop Bop
Zara
2. How do you incorporate new trends into your wardrobe?
One of my
newer
rules is that if I see a trend I like, I stop and think if it will actually suit me and my existing closet. If I see something I just have to have I wait a week and see how often I though about the item. If it was a lot I try to find a cheaper version or the item if it's reasonable.
3. What trends are you seeing and not loving?
I did post on this (
here
) if you want to read it. Answer though is camouflage.
4. Do you feel pressure to constantly update your closet with the latest trends?
I used to feel pressured and worried that if I didn't have the latest and greatest, that no one would read my blog. Then I grew up and decided that if you don't like the way I dress, then you don't need to look. I actually have put myself on a self imposed shopping ban until February 5th when Jason Wu for Target will hit stores.
5. Where do you find inspiration?
Since starting college last week I have had little time to look for inspiration so I people watch and sometimes it helps! When I have time I love looking at other blogs and in magazines for inspiration.
I hope you all enjoyed this!
Cheers,
B